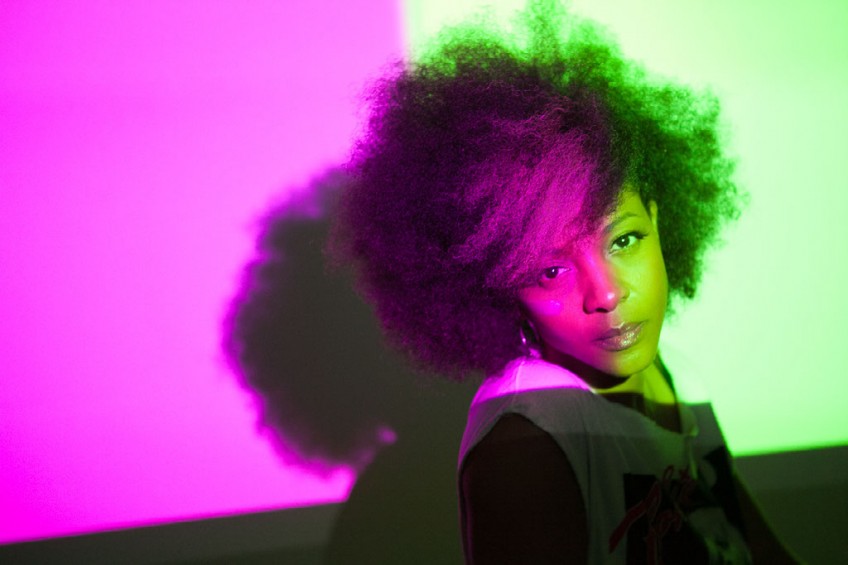 5 Pointz About... Gizelle Smith
1) Gizelle, peux tu nous parler de cet album et du premier single «Hero» avec Eric Boss?
L'album s'appelle Ruthless Day et à la base, c'était en fait une idée de mon ami et producteur bien-aimé Steffen 'Def Stef' Wagner pqui m'a donné quelque chose sur lequel me concentrer, tout en traitant de la dépression. Le sujet est cru parfois et évoque principalement ce que je vivais à une époque, mais la lourdeur de ces sujets sont déguisés en groove funk, optimistes et autres sons psychédéliques.
Nous avons enregistré 8 instrumentaux dans un grand studio de South End appelé Big Noise. C'est un studio analogique et nous avons pris 2 ou 3 jours pour enregistrer. Nous avons ensuite eu quelques sessions pour enregistrer les cuivres dans notre studio à West London, avec des overdubs de synthé et de percussion et finalement, j'ai passé 6 mois à enregistrer toutes les lignes de voix avec mes 500 pistes de bvs. Ce n'était pas vraiment 6 mois, mais je l'ai ressenti vraiment comme ça! J'enregistre aussi mes chants dans le noir, donc c'était comme hiberner mais sans avoir l'avantage d'être endormi, ha. Je n'aime pas beaucoup être en studio.
Quoi qu'il en soit, deux des chansons là-bas ont été co-écrites par un méchant groupe de funk russe appelé Soul Surfers et ils ont enregistré leurs instrumentaux chez eux à Moscou. L'album sortira le 30 mars 2018
Sur 'Hero', j'ai collaboré avec Eric Cooke - la moitié du duo soul Myron et E.
J'aime vraiment travailler avec d'autres personnes - en particulier les chanteurs, ce que je n'ai pas souvent l'occasion de faire. Cela apporte toujours quelque chose d'inattendu. La combinaison de deux énergies apporte une nouvelle façon d'analyser le monde et notre environnement, provoquant ainsi une nouvelle expression créative. C'est-à-dire que je me sens plus légère lorsque je collabore avec quelqu'un, le processus d'écriture est souvent plus rapide et plus facile. Surtout avec mon patron E da Boss, haha. Nous n'étions pas sûrs de quoi écrire, alors nous avons ouvert un des journaux gratuits de Londres et il y avait quelque chose à propos d'un super-héros ... nous avons travaillé avec ça et avons écrit sur un autre type de héros. C'était d'abord un morceau dansant, mais mon producteur et moi sommes allés pour la version ballade en single.
2) Il y a eu un renouveau de Soul Music ces dernières années. Comment vous sentez-vous à ce sujet?
Ravi. C'est bon pour les affaires, haha. La musique soul contemporaine a toujours été énorme et j'ai apprécié les nouveaux groupes qui ont un peu changé leurs sons. Par exemple, Hiatus Kaiyote et Snarky Puppy ont apporté plus de soul et jazz puis Electric Wire Hustle étaient plus électro-soul.
Je pense que le renouveau a été plus dans la ré-émergence de la musique soul retro-sounding, les techniques d'enregistrement old-skool et l'intérêt revitalisé, presque obsessionnel du vinyle (qui dans ma tête, était probablement dû à la renaissance de la soul). Assez d'éléments pour de grands airs Soul. J'ai toujours considéré la musique soul comme le véhicule de la narration socio-politique et nous sommes en train de vivre des changements très intéressants en termes de structure de la société et de diverses escapades politiques, donc je peux imaginer que cette renaissance de la Soul, va se produire pour longtemps. Du moins je l'espère. Sinon je vais devoir fuir et rejoindre le cirque ... ou un groupe de rock.
3) Peux-tu nous parler de la scène musicale de Manchester?
Funny, en lisant cette question, mon copain m'a montré un post Facebook des 15 plus grands groupes de Manchester. Ils étaient surtout des années 90 et cette liste évoque à peu près ce que je sais -ou plutôt- je savais, à propos de la scène Manc-Music haha. J'ai vécu à Londres pendant près de 10 ans, donc je suis un peu en dehors de l'actualité.
Il y a beaucoup de prods- de qualité qui sortent de Manchester, comme toujours: The Mouse Outfit. J'ai suivi leurs progrès au cours des 9 dernières années. Un grand groupe de hip-hop - nous avons commencé un peu au même moment et nous avons des amis communs. Children of Zeus font de bonnes choses aussi, dans le monde R&B / Soul. J'ai récemment découvert un groupe appelé The Breath - cool pour certaines vibrations folk / soul / downtempo. Mon pote Agent J est basé à Manchester et dirige un super blog musical intitulé Groovement. J'essaye de suivre mais y a tellement de groupes, si peu de temps et tout ça ... tu fais ce que tu peux.
4) Quels albums ou artistes ont influencé cet album?
Aucun artiste ou album en particulier. Steffen et moi-même avons de nombreuses influences: les mêmes dans la Funk et la Soul, mais nous avons aussi des influences très différentes dans d'autres genres. Il n'y avait jamais de plan pour reproduire ce que nous écoutons; En fait, nous n'avions pas vraiment prévu de direction du tout. Nous avons plongé dans le bain franchement, après avoir longtemps joué avec nos musiciens (qui viennent en fait plus du jazz), on les a dirigés pour s'éloigner de la "7th chords" (c'est une blague sur les accords de jazz banni dans ma musique !!) et laisser nos énergies se combiner et exprimer librement. Ce qui était bien parce que nous n'étions pas limités en aucune façon. Sauf pour les accords de jazz, ha.
Cependant, j'ai effectivement créé une playlist Spotify, des chansons qui illustrent vaguement mes inspirations quotidiennes. Jettez une oreille si vous avez envie. Elle s'appelle Ruthless Day - Gizelle Smith Inspirations (évidemment!). C'est juste une goutte d'eau de ce que j'écoute mais c'est une bonne liste et j'y ajoute régulièrement de nouveaux morceaux. Je ne fais aucune émission de radio pour le moment, donc faire des playlists m'oblige à continuer à digger. Je devrais aussi penser à faire des podcasts. 
5) Qu'envisages-tu comme prochaine étape?
Je commence à jouer cet album sur scène le 17 mars, donc je serai très occupé avec ça pendant quelques mois. Après, ça sera le prochain album. La plus grosse erreur que j'ai faite après l'album This Is Gizelle Smith & The Mighty Mocambos, c'est que j'ai arrêté d'écrire. Stupide pour deux raisons. Le premier étant ... les mélomanes sont inconstants ! Les artistes (en particulier ceux qui débutent) doivent avoir un travail régulier pour rester pertinents. Au moment où j'ai arrêté d'écrire, ma carrière commençait à peine, mais heureusement, la scène funk underground a quelques adeptes acharnés et beaucoup d'entre eux ont été vraiment incroyables, attendant patiemment mes nouveaux tracks. La deuxième raison est que c'est très préjudiciable à mon bien-être personnel. Travailler sur la musique et jouer des instruments garde mon cerveau en ordre.
Heureusement, j'ai appris de cette erreur et nous progressons déjà sur de nouveaux morceaux.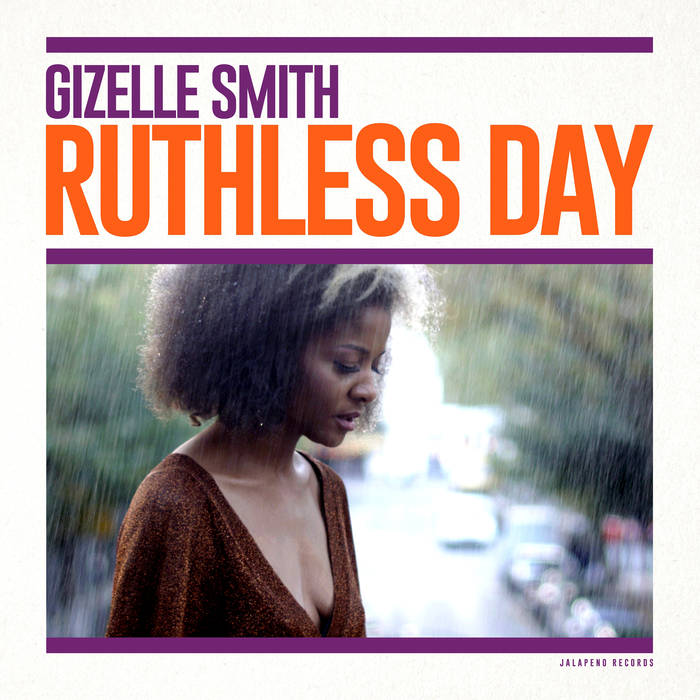 English :
1) Gizelle, can you tell us about this album and the first single « Hero » with Eric Boss ? 
The album is called Ruthless Day and its inception was actually a devise by my dearest friend and producer Steffen 'Def Stef' Wagner to give me something to focus on, whilst dealing with crushing depression. The subject matter is raw at times and mostly addresses what I was going through at the time but the heaviness of the topics are disguised by upbeat funk grooves and psychedelic noises. 
We recorded 8 instrumentals at a great studio in South End called Big Noise. It's an analogue studio and we took 2 or 3 days to record. We then had a couple of sessions to record the horns at our studio in West London, along with synth and percussion overdubs and finally, I spent 6 months recording all the vocal lines with my 500 tracks of bvs. It wasn't actually 6 months, but it sure felt like it! I usually record my vocals in the dark too, so it was like hibernating but without the benefit of being asleep, ha. I don't enjoy being in the studio much.
Anyway, two of the songs on there were co-written by a wicked Russian funk band called the Soul Surfers and they recorded their instrumentals at their place in Moscow.
The album will be out 30th March 2018
 On 'Hero' I collaborated with Eric Cooke - one half of the soul duo Myron and E. 
I really enjoy working with other people - especially vocalists, which I don't have the chance to do often. It always bring something unexpected. The combining of two energies brings a new way of analysing the world and your surroundings so causes a new creative expression.  i.e. I'm more light-hearted when I collaborate so the writing process is often quicker, easier. Especially with ma homie E da Boss, haha. We weren't sure what to write about so we opened one of the free London newspapers and there was something in there about a superhero... we ran with that and wrote about a different kind of hero. It was initially a floor-shaker but my producer and I went for the ballad version as the single.
2) There has been a revival of Soul Music in recent years. How do you feel about this?
Glad. It's suuuuper good for business, haha. Contemporary soul music has always been huge and I enjoyed the new bands who changed it up a bit. For example, Hiatus Kaiyote and Snarky Puppy brought more jazz-based soul and Electric Wire Hustle were more electro-soul.
I think the revival has been more in the re-emergence of retro-sounding soul music, old-skool recording techniques and the revived, almost obsessive interest in vinyl (which in my head, was probably due to the retro soul revival) There's certainly enough ingredients for great soul tunes right now. I've always seen classic soul music as the vehicle for socio-political story-telling and we're currently going through some very interesting changes in terms of the structure of society and various political escapades so I can imagine the revival is gonna run for quite a while longer. At least I hope so. Otherwise I'll have to run away and join the circus... or a rock band.
3) Can you tell us about the Manchester music scene?
Funny, as I read this question, my boyfriend showed me a Facebook post of the 15 greatest Manchester bands. They were mostly from the 90s and that list pretty much tells you what I know - or rather knew, about the Manc Music scene haha. I've lived in London for nearly 10 years so I'm a bit out of the loop. 
 There are a lot of quality acts coming out of Manchester though, as always: The Mouse Outfit. I've been following their progress for the past 9 years or so. Great hip-hop act - we kinda started out at a similar time and we have mutual friends. Children of Zeus are doing good things in the rnb/soul world. I recently discovered a band called The Breath - cool for some folk/soul/downtempo vibes. My homie Agent J is based in Manchester and runs a great music blog called Groovement. I try to keep up with him but so many bands, so little time and all that... you do what you can. 
4) Which albums or artists influenced this album?
No single artist or album in particular. Both Steffen and I have many influences: the same ones of course from the funk and soul genre, but we also have vastly different influences in other genres. There was never any plan to reproduce what we listen to; in fact we didn't really plan any kind of direction at all. We just boldly dived in after being away for so long, jammed with our musicians (who actually come more from a jazz background), directed them away from randomly throwing in too many 7th chords (it's a bit of a running joke about jazz chords being banned in my music!!) and let our combined energies freely express what it wanted to. Which was nice because we weren't restricted in any way. Except for the jazz chords, ha. 
However, I did put together a Spotify playlist actually, of songs which are loosely illustrative of my day-to-day inspirations. Check it out if you fancy. It's called Ruthless Day - Gizelle Smith Inspirations (obviously!). It's just a drop in the water of what I listen to but it's a nice list and I regularly add new tracks to it. I'm not doing any radio shows at the moment, so putting playlists together keeps me diggin'. I should do some podcasts too come to think of it.
5) What do you envisage as the next step?
I start touring the album on 17th March so I'll be pretty busy with that for a couple of months. After that, it'll be onto the next album. The biggest mistake I made after This Is Gizelle Smith and The Mighty Mocambos album, was I stopped writing. Stupid for two reasons. The first being... music-lovers are a fickle crowd! Artists (especially those starting out) need to have a constant output to stay relevant. At the time I stopped writing, my career was just kicking off but luckily, the underground funk scene has some die-hard followers and many of them have been really amazing, waiting patiently for my new material. The second reason is it's quite detrimental to my personal well-being. Working on music and playing instruments keeps my brain in order haha.  
Luckily I've learnt from that mistake and we're already making progress on a new batch of tunes.