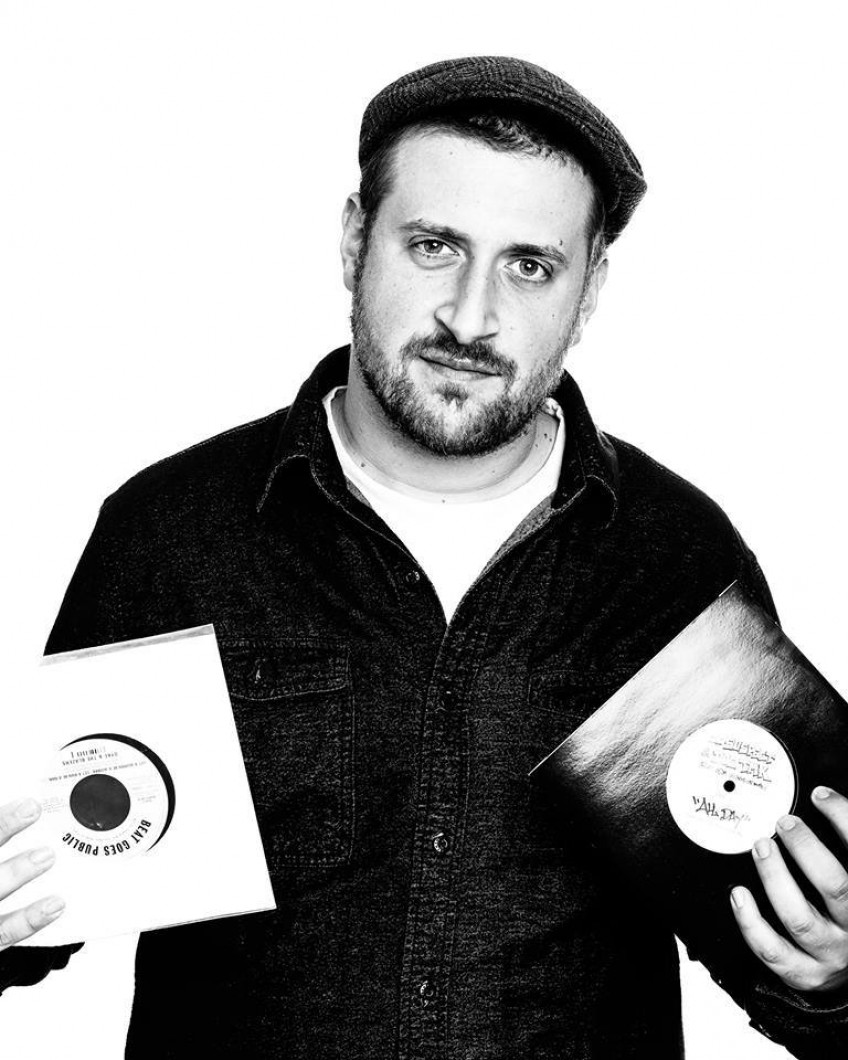 5 Pointz About... DJ Suspect
#1 Nous avions déjà fait un interview de toi au temps de ton groupe avec Doc TMK. Depuis tu roules en solo. Peux-tu nous dire ce qui s'est passé entre ce dernier interview et aujourd'hui dans ta vie musicale ? 
Pleins de choses en l'espace de trois ans !
J'ai tout d'abord fait un mix intitulé "French Delivery" pour l'ex-label new-yorkais Truth & Soul et également un mix pour l'émission légendaire canadienne WeFunk Radio que l'on peut écouter sur mon Soundcloud. J'ai tout dernièrement sorti un mix "Straight from the Soul" qui est un retour à mes premiers amours, à savoir le hip hop US early 90's.
J'ai par ailleurs continué d'accompagner sur scène The Real Fake MC, qui a depuis sorti son deuxième album "Future Funk Survivors"
Le label londonien Dinked Records a sorti deux 45 tours Dj Suspect & Doc TMK, le premier avec deux morceaux extraits de l'album Giving Space to the sun, et le second avec un remix que nous avions fait à la base pour un concours de sneakers. Dans les deux cas, c'est vraiment terrible que cela ait pu être pressé en 45 tours. On a par ailleurs sorti un 45 tours sur un label anglais avec en invité le duo légendaire Finsta Bundy, et j'ai dernièrement réalisé les scratchs sur l'intro de l'album solo de Doc TMK.
J'ai par ailleurs rencontré Guts lors d'une de mes dates à Ibiza avec qui j'ai immédiatement sympathisé, et il m'a convié à réaliser les versions mixées des deux derniers volumes de ses compilations Beach Diggin. Le dernier volume vient de sortir en vinyl, et mes mixs sont dedans.
Récemment, j'ai collaboré avec l'excellent Aeon Seven sur un projet commun "Cosmic Thrill" que l'on propose désormais en live 4 platines. J'ai aussi sorti un 45 tours de scratch intitulé "Cut the funky record" sur le label Beatsqueeze Records. Et bien évidemment des dj sets un peu partout.
#2 Un mot sur les soirées Funk Da Boat ? 
Les soirées Funk Da Boat ont vu le jour l'été 2016. Je propose ça avec mon acolyte Gones (qui est l'organisateur des soirées Boogie Down sur Toulouse), et on invite des guests différents à chaque fois. Le but est de proposer une alternative de qualité sur Paris, avec une grande ouverture musicale. On a déjà eu le grand plaisir de recevoir entre autre Crazy B, Guts, Dj Format, Inkswel, et encore plein d'autres super guests sont à prévoir dans quelques jours comme DJ Vadim le 31 Octobre.
#3 Le Deejaying... te considères-tu comme un "Digger" ? stockes-tu tes vinyl ou au contraire tu fais tourner ta collection  ? 
Je suis un digger, pas un collectionneur. Je suis dj avant tout, j'aime le support vinyl, mais je préfère choper en double une réédition bien pressé, que de me ruiner pour un original en mauvais état que je ne pourrai pas jouer. Je ne stocke pas plus que ça, j'ai plutôt tendance à faire tourner ma collection. Si je vois un disque que je ne joue plus en soirée, que je n'écoute plus chez moi et/ou qui a déjà été samplé, j'ai plutôt tendance à le revendre: ça fait de la place et des sous pour en trouver d'autres.
#4 Ta dernière grosse gifle musicale ? 
Le 45 solo de Aeon Seven "Seven Breaks" qui est sorti sur 45 Live Records. Une tuerie!
#5 Actualité, projets et le futur de Dj Suspect c'est quoi ? 
Toujours plein de beaux projets, avec dans le désordre: un autre 45 tours chez Beatsqueeze pour les scratch addicts, un gros projet avec Guts dont je ne peux pas parler pour le moment, un morceau en cours avec Aeon Seven qui va faire très mal, un retour en studio sous peu pour préparer un 45 tours solo, et dans les jours à venir un nouveau mix intitulé "Straight from the soul" spécial hip hop early 90's, mes premiers amours.
Pour les dates: un maximum de show Cosmic Thrill avec Aeon Seven, et aussi plein de dj sets!
http://www.facebook.com/DjSuspect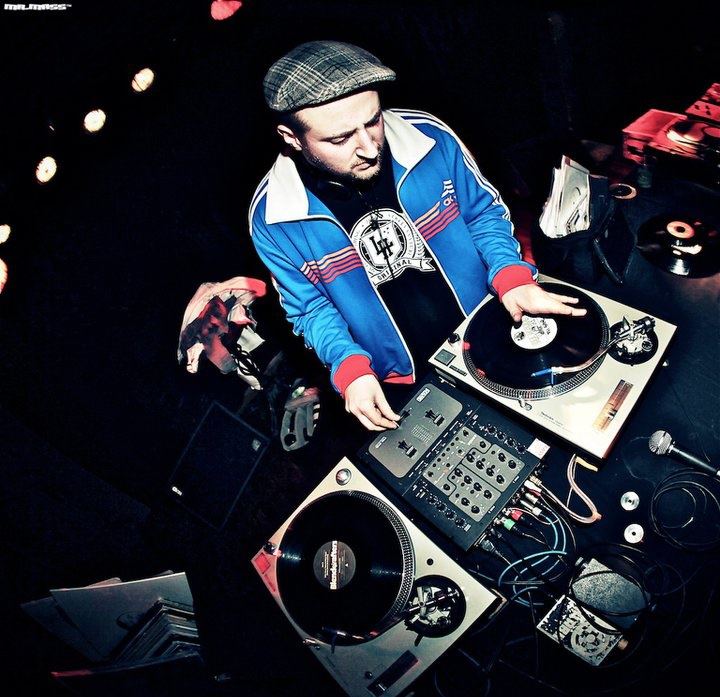 English: 
#1 We had already done an interview of you at the time of your group with Doc TMK. Since you've been driving solo. Can you tell us what happened between this last interview and today in your musical life?
A lot of things in the space of three years!
I first made a mix called "French Delivery" for the ex-New York label Truth & Soul and also a mix for the legendary Canadian show WeFunk Radio that can be heard on my Soundcloud. I recently released a mix "Straight from the Soul" which is a return to my first love, namely the US early 90's hip hop.
I also continued to accompany The Real Fake MC, who has since released his second album "Future Funk Survivors"
The London label Dinked Records has released two Dj Suspect & Doc TMK singles, the first with two tracks from the album Giving Space to the Sun, and the scond with a remix that we had made for a sneaker contest . In both cases, it's really terrible that it could have been pressed in 45 laps. We also released a single on an English label with invited guests the legendary duo Finsta Bundy, and I recently realized the scratches on the intro of Doc TMK's solo album.
I also met Guts during one of my dates in Ibiza with whom I immediately sympathized, and he invited me to make the mixed versions of the last two volumes of his compilations Beach Diggin. The last volume has just released in vinyl, and my mixes are in it.
Recently, I collaborated with the excellent Aeon Seven on a joint project "Cosmic Thrill" that we now offer live 4 turntables. I also released a scratch single called "Cut the funky record" on Beatsqueeze Records. And of course DJ sets everywhere. 
#2 A word about Funk Da Boat parties ?
The Funk Da Boat parties were born in the summer of 2016. I propose this with my friend Gones (who is the organizer of the Boogie Down evenings in Toulouse), and we invite different guests each time. The goal is to propose a quality alternative on Paris, with a great musical opening. We already had the great pleasure to receive among others Crazy B, Guts, Dj Format, Inkswel, and still many more super guests are to be expected in the future, like DJ Vadim. 
#3 Deejaying ... do you consider yourself a "Digger"? do you stock your vinyl or on the contrary you turn your collection?
I'm a digger, not a vinyl-collector. I am already above all, I like the vinyl support, but I prefer to duplicate a reprise in a hurry, than to ruin me for an original in poor condition that I will not be able to play. I do not store more than that, I tend to run my collection. If I see a record that I do not play anymore in the evening, I no longer listen to me and / or has already been samplé, I tend to resell it: it makes room and pennies to find others.
#4 What is your last big musical "slap"?
Aeon Seven's 45 solo "Seven Breaks" which was released on 45 Live Records. BANGER !
#5 News, projects and the future of DJ Suspect what is it?
Always full of beautiful projects, with a mess: another single at Beatsqueeze for the addicts scratch, a big project with Guts which I can not speak for now, a piece in progress with Aeon Seven that will do very badly, a return to the studio shortly to prepare a single solo, and in the days to come a new mix entitled "Straight from the soul" special hip hop early 90's, my first love.
For the dates: a maximum of Cosmic Thrill show with Aeon Seven, and also full of dj sets!