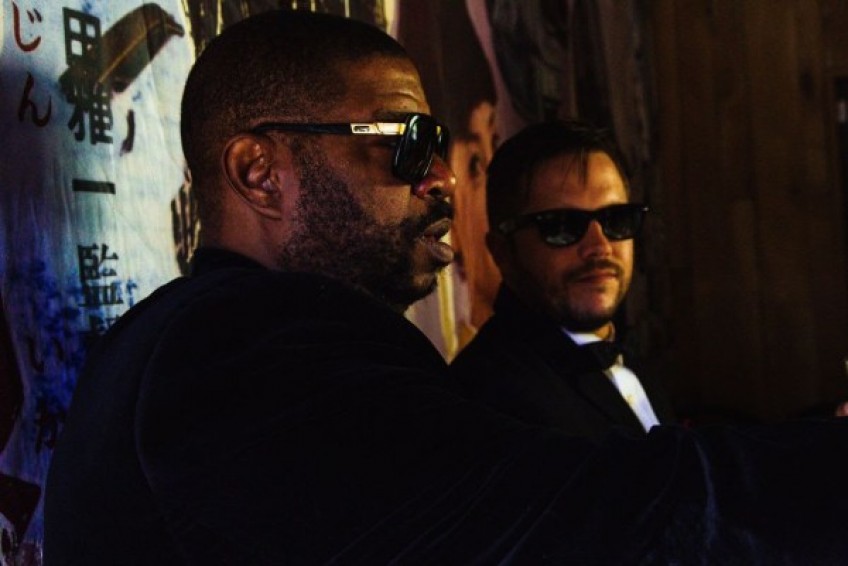 5 Pointz About... DiamonD (D.I.T.C) & Dillon
#1 Comment la connection s'est faite entre vous 2 ?
DD: J'ai rencontré Dillon à divers concerts hip-hop à Atlanta. J'ai appris qu'on avait des amis communs et qu'il était fan de Dilla. Il travaillait aussi comme ingénieur du son et je l'ai pris dans mon équipe en tant qu'ingénieur du son donc, en lui promettant de produire un EP pour lui... c'était il y a 7 ans
DL: Diamond et moi nous nous sommes rencontrés il y a des années quand jétais dans un groupe Hip Hop d'Atlanta appelé 'Collective Efforts'. Il travaillait avec eux et au fil du temps, un lien s'est crée entre nous et à coté de ça j'ai commencé à taffer en tant qu'ingénieur du son pour lui et ensuite à concoter des beats Hip Hop dans notre coin, lentement mais sûrement.  
#2 «FEAST» est un gros track ! Dillon de quoi parlez-vous sur ce morceau exactement? 
DL: Merci. Feast est inspiré par d'un "OG ATLien" local et une légende : 'Fort Knox'. Chaque fois qu'il y a un concert Hip Hop à Atlanta et qu'on est sur le point de boucler le show et aller se chercher à manger, Fort Knox nous criait « c'est l'heure de FEAST ! chez nous on ne mange pas, on « FEAST » chaque repas est une fête quoiqu'il arrive. C'est notre approche à Diamond et moi vis-à-vis de ce morceau, profiter de la vie, que rien n'est acquis et profiter de toutes les bonnes choses de la vie (la nourriture, le vin et l'herbe !) Nous ne faisons pas que manger, nous faisons la fête aussi !
#3 DiamonD, j'ai eu l'occasion de te voir en DjSet au Bowery Electric (NYC) avec Large Professor. Tes sélections sont vraiment très éclectiques, Même ressenti sur cet EP, chacun beat sonne très différent. T'es-tu inspiré de plusieurs styles de musiques pour composer la tienne? 
DD: Oui je suis inspiré et j'écoute tous les types de musique possibles et ça se reflète dans mes productions passées et présentes... néanmoins je fais en sorte que tout sonne funky car à chaque fois c'est le thème récurrent.
# 4 Pourquoi ce titre «Black Tie Affair» ? qu'est-ce que ça évoque?
DL: J'ai appelé ce projet Black Tie Affair parce que, comme vous le savez, c'est une fête qui nécessite un smoking ! Ceci dit c'est censé être un rap "sophistiqué" pour les connaisseurs, ou du «Boom Bap avec un nœud papillon» c'est comme ça que j'aime l'appeler. Les rythmes de Diamond sont classiques et j'ai essayé de les coupler avec des rap classiques aussi mais avec du contenu et du flow, mais toujours dans un style hip-hop classique.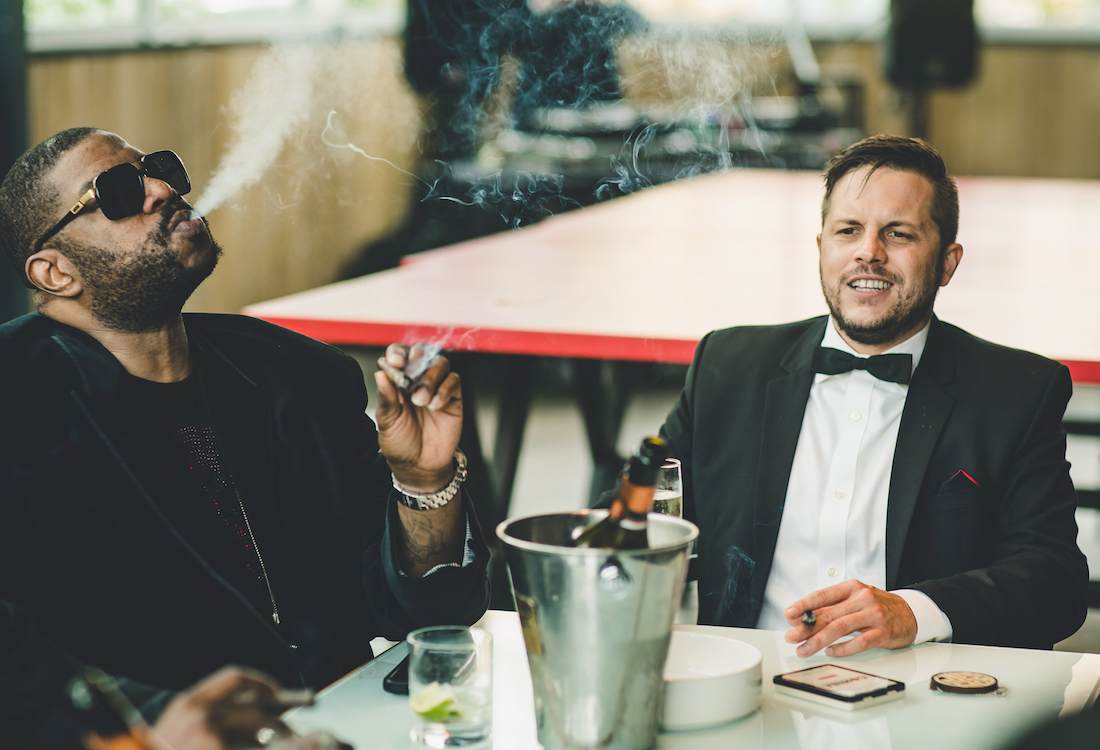 # 5 Dillon, DiamonD: prochaine étape musicale pour chacun de vous?
DD: Prochaine étape pour moi: The Blake Moses Project (nu-soul / hip hop)... Snooze (jeune artiste hors de Harlem) ... et The Diam pièce Vol 2 
DL: Pour moi, continuez à bouger pour mon label, FULL PLATE que je gère avec mon partenaire, Paten Locke. Je suis sur le point d'entamer une tournée avec mon pote, 'Batsauce' (Berlin / Jacksonville, Floride USA). L'album s'appelle 'On Their Way' et comprend Sadat X, Greg Nice, Count Bass D, Supa Dave West, Willie Evans Jr, Qwaazar et plus encore. Après cela, j'ai mon album solo de mon alter-ego, 'The Tails of Lobsterus' - mais ça c'est une toute autre histoire.
 
English : 
#1 How was the connection between you two made?
DD : I met Dillon at various hiphop shows in atlanta while visiting. Learned he lived with some mutual friends and was a dilla fan. He was also dabbling in engineering so i brought him into my fold as an engineer with the promise Id produce an EP on him...this was 7yrs ago
DL : Diamond and I met years back when I was living with an Atlanta Hip hop band called, 'Collective Efforts'. He would come by and do work with them, and over time we just kinda connected and we would kick it on our own. I started doing engineering work for him, and we started cooking up rap joints on the side slowly but surely.
#2  « Feast » is a banger ! Dillon what are you talking about in this track exactly?
DL : 'Thanks yo. Feast is inspired by a local ATLien OG & legend, 'Fort Knox'. Whenever there's a rap show in Atlanta and we're closing up and about to go get food, Fort Knox says it's time to 'FEAST!' - we don't just eat, we FEAST! Every meal is a celebration, no matter what. So that's me and Diamond's approach to this song - living the good life, not taking any time for granted and balling out as much as possible with the greatest things in life - food, wine & weed!

#3 DiamonD, I had the opportunity to see you in DjSet at Bowery Electric (NYC) with Large P. Your selections are very eclectic, Even felt on this EP, each of the tracks are very different. Are you inspired by many kinds of different music, for compose yours?
DD : Yes i am inspired by and listen to all types of music and genres and it reflects in my productions past & present...i make it all sound funky so thats the underlying theme
#4 Why this title (« Black Tie Affair »)? what does it evoke?
DL : I named the project Black Tie Affair because as you know, that's a party that requires a tuxedo! This is meant to be sophisticated rap for the connoisseur, or 'Boom Bap with a bow tie' is what I like to call it. Diamond's beats are classic and I tried to pair them with classic raps with a little bit of content & flair but still in the classic hip hop style.
#5 Dillon, DiamonD : next musical step for each of you ?
DD : Next up for me is The Blake Moses Project (neo soul - hiphop)... Snooze (young artist out of Harlem)...and The Diam Piece Vol 2
DL : For me, keepin it moving with my label, FULL PLATE that I run with my partner, Paten Locke. I'm about to turn in my next full length with my homie, 'Batsauce' (Berlin / Jacksonville, FL USA) on the beats. The album is called 'On Their Way' and features Sadat X, Greg Nice, Count Bass D, Supa Dave West, Willie Evans Jr, Qwaazar & more. After that I have my solo alter-ego album, 'The Tails of Lobsterdamus' - but that's a whole other conversation.