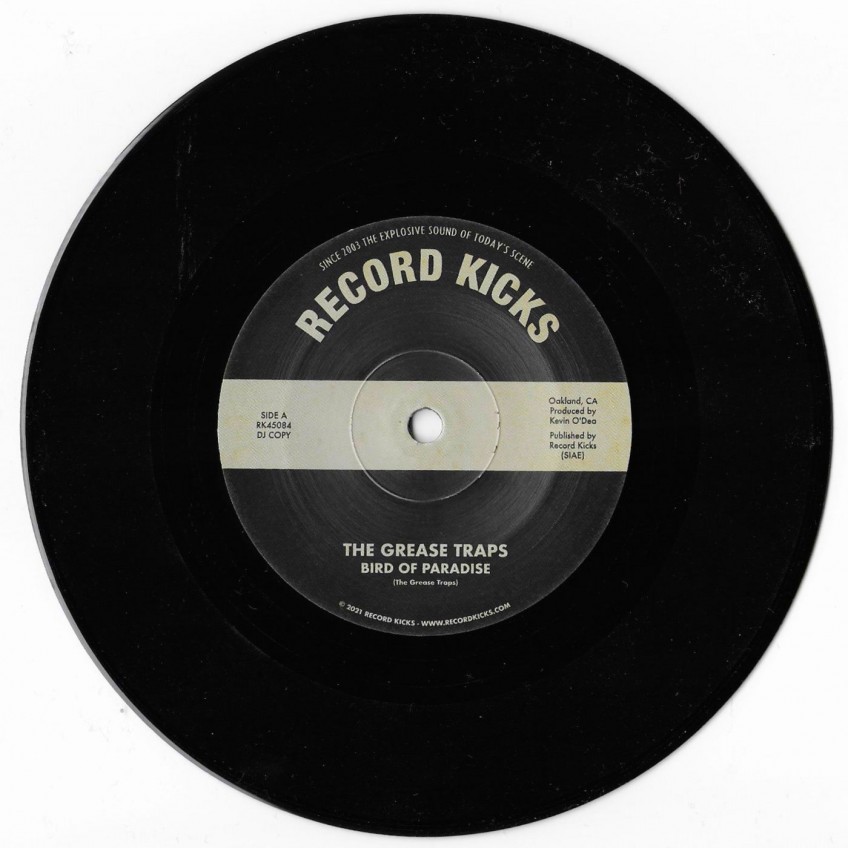 The Grease Traps : leur playlist pour Radio Krimi
Solid Ground est le premier album tdu groupe funk américain The Grease Traps. Enregistré en partie au Transistor Sound de Kelly Finnigan à San Francisco et au Fifty Filth Studio à Oakland, cet album a été mixé par le producteur et guitariste des Orgone Sergio Rios avec la collaboration de Kevin O' Dea. Le groupe, originaire d'Oakland, Californie, est la toute dernière corde à l'arc du label milanais Record Kicks. 
Avides collectionneurs de disques et fans du son analogique old school, The Grease Traps a enregistré Solid Ground en analogique, précisément avec un Tascam 388, qui apparaît d'ailleurs sur la pochette de l'album, dans les locaux du Transistor Sound de Kelly Finnigan, quartier général de son groupe les Monophonics, et ceux du Fifty Filth Studio à Oakland. Le mixage a été confié aux doigtés habiles du producteur et co-fondateur des Orgone (Ubiquity, Colemine Records) : Sergio Rios. Les titres originaux de l'album font références aux nombreuses influences soul des Grease Traps, du deep funk pur et dur dans des morceaux tels que "Bird of Paradise" et "Hungry", aux atmosphères psychédéliques dans "Residue", en passant par le deep soul de "More and More". La voix du groupe The Gata n'a pas peur d'aborder des thèmes d'actualité lourds comme le racisme récurrent aux U.S. dans "Roots" et se berce dans l'espoir d'un monde meilleur dans "Solid Ground".
Les Grease Traps commencent à prendre forme en 2000, lorsque le claviériste Aaron Julin répond à l'annonce du guitariste Kevin O' Dea, à la recherche de musiciens passionnés de "rare groove" : ils forment in primis les Groovement et dans un second temps les Brown Baggin. Fortement inspirés par les grands classiques comme JB's, the Meters, Kool & the Gang, et des artistes moins connus comme Mickey & the Soul Generation, ils puisent ensuite sans relâche dans les compilations de rare funk publiées par Keb Darge, Jazzman Gerald et labels comme Harmless, Ubiquity, Soul Jazz et Now-Again. La scène soul et funk naissante d'artistes tels que Breakestra, the Whitefield Brothers et les crews de Daptone Records vient compléter le tableau.
Pour l'occasion le groupe nous a fait part de leurs influences... 
Clarence Reid - Nobody But You Babe 
We really dig the funky R&B that came out of the Miami scene in the 70's (Clarence Reid, Willie "Little Beaver" Hale, Robert Moore, etc).   This is not a tune we've played before, but it's our sound to a "T". Funky as a mutha with bass and drums locked in, gritty guitar, organ adding color, a strong soulful singer, and horns on top to compliment it all.
Dave Hamilton - Ain't It A Groove
This whole album from Detroit guitarist, Dave Hamilton, is a monster. The drums sound hard as hell with that squeaky kick pedal and the whole groove is just nasty.  Also, check out the alternate version of this same tune with fuzzed out guitar called "Cracklin Bread."  
Maceo and All The King's Men - Better Half 
During our first rehearsal together, we learned a few tunes off of this album and never looked back.  This was basically James Brown's all-star backing band right after they left en masse around 1970.  These guys were at the height of their funk powers at this point.  Maceo's sax playing is always on point, but his brother Melvin Parker's drumming really shines on this one.   
Mike James Kirkland - Got To Do It Right 
Do it Right is not only a hard-driving, burning groove but the chord changes and arrangement are really interesting. It's one of those "how the fuck did they think of that?" tunes that in theory shouldn't work, yet it does...beautifully.
Sam Reed Band - Ambassador's Theme 
This is actually an instrumental version of another tune.  The arrangement and orchestration are amazing.  We like the way the drum fills set up the push and pull of the groove so perfectly.  We've always dug the sounds coming out of Philly during this time period. 
Marva Whitney - What Do I Have To Do To Prove My Love To You 
We love sister funk and this is one of the best from the James Brown vaults.  Always great to hear JB's band backing different artists.  Also, Marva is from KC like our drummer, so we're a little biased. 
Art Jerry Miller - Finger Lickin' Good 
You can't go wrong with Art Jerry Miller's graceful and soulful touch on the Wurlitzer.  Classic instrumental soul from the Stax, one of the labels whose sound inspired us the most over the years. 
Sam and The Soul Machine - Po'k Bones and Rice 
This album was a welcome discovery for us.  It features one of our all-time favorite drummers and current Oakland resident, Zigaboo Modeliste, before he was part of the Meters.  Though we love the Meters catalog, it is very cool to hear him play with a different group and feel. 
Mickey & the Soul Generation - Give Everybody Some 
It would be impossible to make a list of our influences without mentioning Mickey & the Soul Generation.  To us, they are the epitome of raw, instrumental funk. This 7+ minute burner features a wah-wah sax melody, hard-hitting rhythm from both guitar and Farfisa organ, a nasty bass solo, and a 20-second drum break. Their drummer has such a unique funk-swing feel that we fall for every time.
Dee Edwards - (I Can) Deal With That
This tune has an amazing and sparse bass line. I love how it's non-repetitive and improvised except for those synchronized licks with the guitar. Cool arrangment/chord changes as well, especially the tension then release every time it goes back to the verse.