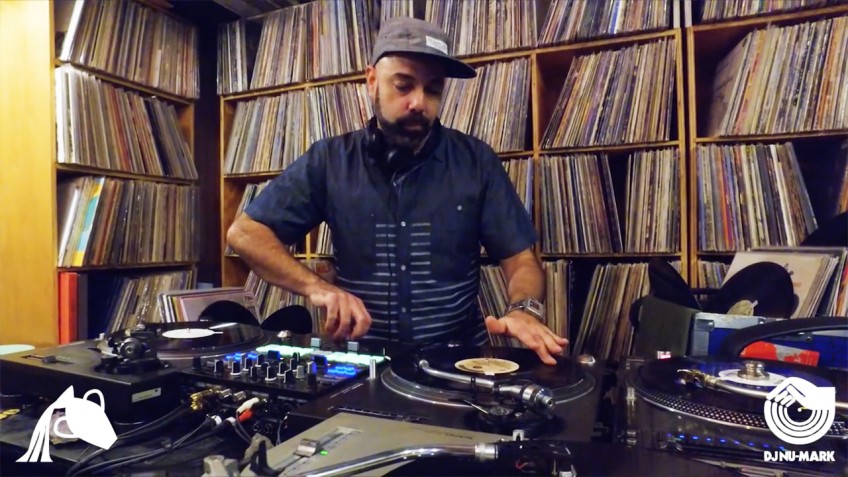 5 Pointz About... Dj Nu-Mark
Membre de Jurassic 5 (avec entre autre Cut Chemist, Chali 2NA, Akil), Nu-Mark (Uncle Nu pour les intimes), nous explique son concept de ces videos "Zodiac". Rencontre : 
#1 : Comment as-tu eu l'idée de faire ces «Zodiac sessions» ?
NM: c'était en partie une décision de rendre aux artistes qui ont contribués à façonner la musique que j'apprécie. Ma résolution du Nouvel An a été de le restituer ... pas seulement de manière monétaire. Juste donner de manière inconditionnel. À l'origine, j'ai commencé à travailler sur un seul artiste à la fois comme un concept de mix d'anniversaire, mais ça me semblait trop monotone. J'ai dit à ma petite amie que que je trouvais que ça sonnait bizarrement, alors elle m'a dit pourquoi ne pas mélanger plusieurs anniversaires d'artistes et c'est alors que ça m'a intéressé parce que je crois que ma force en tant que DJ sont mes transitions. L'idée de Zodiac Tracks est née et la relation entre des artistes multiple dans un mélange de 5 minutes est devenue très difficile! Le concept a commencé à devenir amusant à ce stade! Ce que je préfère c'est quand le sample original et l'artiste Hip Hop sont du même signe !!
#2 : Je suis DJ sur 7inch aussi et quand je regarde tes vidéos, je me demande combien de temps il te faut pour  préparer une seule de ces session ? Et surtout, as-tu déjà commis une erreur et du coup devoir tout refaire?
NM: Oh ouais, je fais toujours des erreurs, mais ce n'est pas la performance qui prend du temps... c'est le disque manquant! Je termine habituellement l'enregistrement direct en 1 à 3 prises. Ce qui prend du temps réellement c'est quand je pense avoir une chanson Hip Hop en vinyl alors que je possède seulement le MP3 (rires). Ensuite, je vais examiner ma collection et réalise qu'il me manque un album très courant. Curieusement, j'ai presque toujours le sample original dans ma collection (rires). Ça m'a donné beaucoup de fil à retordre. Je ne m'attendais pas à ça! Conclusion, je dois prendre le temps de trouver le vinyl qu'il me manque.
#3 Existe-t-il une session des Zodiac que tu apprécies plus que d'autres et pourquoi?
NM: Le but primordial est de tenter d'obtenir 3 mêmes signes d'un signe du Zodiaque ou plus une seule chanson ! Je peux donc mieux mettre plus d'anniversaires d'un artiste en moins de temps! Il y a eu le cas sur l'épisode du Scorpion de l'année dernière où Alchemist, Prodigy et le sample original appartenaient au signe du Scorpion !
#4: Ton album "Tropicalifornia" est fantastique, prépare-tu quelque chose actuellement en termes de production?
NM: Merci. Je viens de terminer un album que j'apprécie vraiment ! Moi-même, Slimkid3 de Pharcyde et Antoine, nouveau venu d'Austin, sommes prêts à lancer un projet appelé TRDMRK! prochainement. Impatient !
#5 : Quels sont tes futurs projets ?
NM: J'ai l'intention de faire plusieurs Releases Parties pour les Zodiac Tracks avec beaucoup de morceaux essentiels qui sont passés en arrière-plan, avec des goodies spéciaux liés aux mix passés. J'essaye d'obtenir les 12 signes du zodiaque joués en direct sur scène en utilisant du vinyle! Aussi, Method Man et moi-même avons aussi une émission de télévision diffusée sur TBS, qui s'appelle Drop The Mic. Meth est l'hôte et je suis le DJ. Les célébrités se battent (en rimes). C'est une comédie! Nous avons tourné 6 épisodes, nous en filmons 10 autres en 2 semaines qui sortirons fin octobre!
Merci! Visitez mon FB et mon site Web pour les différents mix des Zodiac Track! 
Nu 
 English :
A Jurassic 5 member (including Cut Chemist, Chali 2NA, Akil), Nu-Mark (Uncle Nu for the intimates), explains his concept of these videos "Zodiac". Meet :
#1 RK: Hi Nu, Thank you for time. How did you come up with the idea of making these "Zodiac sessions » ?
NM: It was partly a decision to give back to artists that have helped shape music I enjoy. My New Years Resolution was to give back....not so much in a monetary way. Just giving unconditionally. Originally I started working on one artist at a time as a birthday mix concept but it felt very stiff. I was telling my girlfriend that I thought it sounded wack so she said, why not mix multiple artists birthdays and that's when things got interesting for me because I believe my strength as a DJ is my transitions. The idea of Zodiac Tracks was born and finding the relationship between multiple artist in a 5 minute mix became very challenging! The concept started to become playful at this point! My favorite is when both the original sample and Hip Hop artist are the same sign!!
#2 RK: I'm DJ on 7inch too and when I watch your videos, I wonder how much time it takes to prepare for just one video ? And above all, have you ever made a mistake and have to redo everything ?
NM: Oh yeah, I always make mistakes but it's not the performance that takes a long time, it's the missing record! I usually knock out the live recording in 1-3 takes. The real time consumer is when I think I have a hip hop song because I own the MP3 hahahah. Then I go to look into my collection and realize I'm missing a very simple album. Oddly enough, I almost always have the original sample in my collection hahahaha. This was the biggest curve ball for me. Didn't expect it! So basically I have to take the time to hunt down the vinyl I'm missing. 
#3 RK: is there a part of the Zodiac that you appreciate more than others and why?
NM: The premium goal is to attempt to get 3 Zodiac signs or more out of one song! So I can extend more happy Bdays to the artist in less time! There was a good one on last year's episode where Alchemist, Prodigy and the original sample belonged to the Scorpio Zodiac sign!
#4 RK: Your album "Tropicalifornia" is fantastic, do you prepare something currently in terms of production?
NM: Thank you. I just finished an album I really enjoy! Myself, Slimkid3 of Pharcyde and new comer Austin's Antoine are set to release a project called TRDMRK ! Coming soon, can't wait.
#5 RK: What are your close projects concerning you but also Jurassic 5?
NM: I plan to do several release parties for Zodiac Tracks with lots of essential oils brewing in the background, very special merchandise items pertaining to the past mixes, and myself trying to conquer all 12 Zodiac signs live on stage using vinyl! Also, myself and Method Man have a television show airing on TBS. It's called Drop The Mic. Meth is the host and I'm the DJ. Celebrities battle each other (rhyming). It's comedy! We shot 6 episodes, we shoot 10 more in 2 weeks and it airs in late October! Thanks!
Visit my FB and website for the Zodiac Track mixes! See my signature! Nu