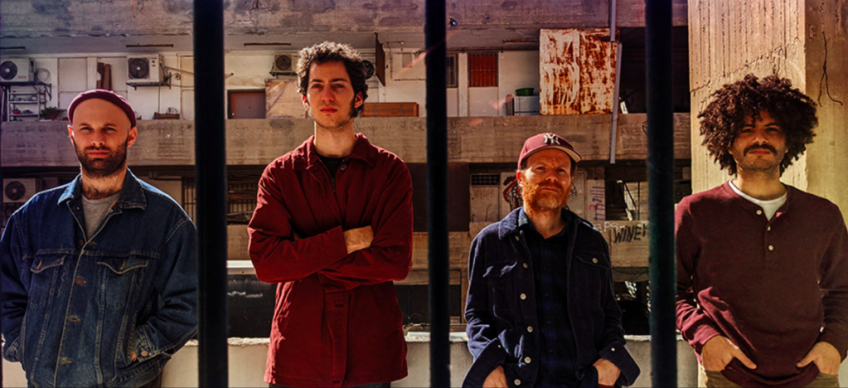 Sababa 5 nous balancent leur playlist
Sababa 5 c'est de la folie pure. Un groupe que l'on suit consciencieusement depuis un moment. Signé sur le magnifique label Batov Records, le groupe basé à Tel-Avid (Israel) et évoluant autour aussi de Hoodna Orchestra ou bien Tigris Band, leur musique est un carrefour gigantesque de musique venant autant du grand Moyen-Orient, Japon aussi et de Funk bien lourd... 

Un carrefour musical gigantesque dont ils nous ouvrent un peu les portes à travers cette playlist... dont ils ont même pris le temps de nous donner quelques explications dans la langue shakespearienne :
(cliquez sur le nom des artistes pour écouter via Spotify)
1/
The Gondors - Joyful In Outer Space 

our dear friends that are making great stuff over the years, their last release is just wonderful.
2/
Gökcen Kaynatan - Madimak

We don't know really nothing about this artist except that this music entered our hearts with great pleasure.


3/
Cochemea - Chito's Song

We are huge fans of Cochema works and daptone records in general .
We've been lucky enough to see him perform live with his group and it was one of the best music performances we ever witnessed.


4/
Ouzo Bazooka - Monsters

Our great friends, the monsters, the mighty Ouzo Bazooka. We have been their fans always and we dig their last album absolutely! 


5/
Liraz - Bia Bia

Our Diva , the supreme Naz, Liraz. We are working together with her music and performance  with great joy.


6/
Kutiman - Guruji 

The grandmaster Mr.Kutiman, we love his music so much and influenced deeply by all of his works 


7/
Ben Aylon - Benn Takamba

Our dear friend Ben Aylon, Amazing musician that we have played a lot together over the years and we cannot express the appreciation and love towards him and his music projects.
Gelbart - WW1 Hamster Wars 

Gelbart is the best, that's it. 
If you don't know about his works, we'll take a deep breath and we wish you good luck.


9/
The Flavors - Manta Ray 

The new Generation of groove music in Tel-Aviv city, we are just happy to be their friends cus they rock funk! 


10/
El Khat - Balagan Al Achbaab

A great project from our beloved label Batov Records, check them out!